The EMIA-Expert Carbon / Sulfur Analyzer based on HORIBA's widely respected expertise in Non-Dispersive Infrared (NDIR) technology
High Performance Purifier Unit for Carrier Gas
Enables measurement of ultra-low carbon concentration with high accuracy by eliminating hydrocarbon impurities in the carrier gas
High Performance Heating Filter Unit
Samples which are moist or that generate water during analysis may cause a small error for the analysis of sulfur. This is due to the evolved water absorbing the SO2 gas. Using the heating filter, the absorption of SO2 by moisture is prevented, and highly accurate sulfur analysis is guaranteed
Long Mean Time Between Maintenance
The unique newly-developed cleaning mechanism (patent pending) clears the dust in the furnace, allowing the operator to continue to use the EMIA-Expert / Pro without maintenance cleaning for up to 200 measurements*.
* It depends on sample and measurement condition
With the latest innovations the cleaning time for the EMIA Series instruments is typically half of that of our conventional models. The flat design around the crucible stand and simple design around the furnace also simplify user access for cleaning.
Advanced Operation software
A critical focus was to ensure that the EMIA-Expert / Pro Series was "easy-to-use". In particular, we focused on the layout, operating menus and functions. 
We have included a self-diagnostic monitor checking capability to check the status of the connected device, an alarm function and we have expanded 3 navigators to facilitate daily operation.
High Throughput
EMIA Series can complete one measurement cycle, "measurement-display result-cleaning", in 70 seconds (i.e. about 50 samples/hour)
Troubleshooting Navigator 
Automatic diagnosis system and troubleshooting navigator
Analysis Navigator
This function uses the recommended best measurement flow and operating condition based on our experience
Maintenance Navigator
Periodic preventive maintenance work navigator by videos and photos
SPECIFICATIONS
Contents
EMIA-Expert
Required sample amount
1g ± 0.1g
Typical Meas. time
70 seconds/cycle
Carbon
Meas. Range (m/m)
0.6 ppm – 10.0%
Blank accuracy
σn-1≦ 0.3 ppm
Sulfur
Meas. Range (m/m)
0.6 ppm – 1.0%
Blank accuracy
σn-1 ≦ 0.3 ppm
Sample meas. Accuracy
Carbon
σn-1 ≦ 0.3 ppm(less than 20 ppm) σn-1 ≦ 1.0 ppm or RSD≦0.5%(more than 20 ppm)
Sulfur
σn-1 ≦ 0.3 ppm(less than 20 ppm) σn-1 ≦ 1.0 ppm or RSD≦0.75%(more than 20 ppm)
Utility
Carrier gas
Oxygen (Purity; 99.5%, Pressure; 0.3-0.33 MPa)
Operation gas
Nitrogen (Purity; 99.5%, Pressure; 0.35-0.38 MPa)
Power
200/220/240V, 50/60Hz, 5kVA
Dimensions
Main unit*
500(W) x 725(D) x 710(H) mm
Purifier unit
160(W) x 560(D) x 512(H) mm
Mass
Main unit
approximately 134 kg
Purifier unit
approximately 21 kg
Data processing and operation
USB data communication with PC Windows 8.1 Touch panel or Key board and mouse operation
Model name
EMIA-20E: Carbon/Sulfur EMIA-21E: Carbon EMIA-22E: Sulfur
Note) "ppm" is equal to mg/kg.
*Except piping parts, projection parts (D:79mm) and flow meter on the back side.
---
---
Schematics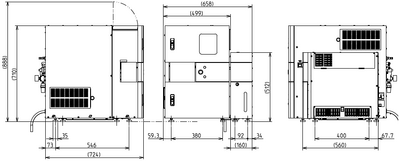 ---
---
---
Accessories
Crucible Pre-heating Unit
The crucible pre-heating unit; FK-100 with automatic transportation function to heat a ceramic cruible at 1100 degree in 10min. before analysis.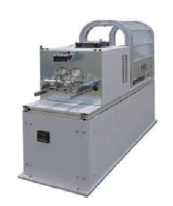 Autosampler
Automation crucible loading and disposing unit. Up to 20 pcs of crucible are available to be set.
---
---
---
Consumables
Ceramic crucible
Low carbon blank and high dimension tolerance for high precision analysis.

Accelerators
High-purity materials which support stable analysis: Tungsten(W), Tin(Sn), Copper(Cu), Iron(Fe)

APPLICATIONS
DOWNLOADS
For expert analysts demanding the greatest accuracy and precision
Manufactured by HORIBA Japan